Top 5 Things to Do in New Zealand
If you've never visited New Zealand before, you might not realise what you are missing out on! New Zealand is world class tourist destination, in fact it is often rated as one of the world's favourite places to travel to and live in! Our roads are modern, well maintained and relatively uncongested and accommodation in New Zealand caters to travellers of every budget. There's so much to see and do here that we couldn't possibly list everything, but here are the top 5 things to do in New Zealand!
1. Adventure Attractions
Home to the original bungy, New Zealand is one of the best holiday destinations in the world for adventure attractions! You can leap off a bridge with a rubber band around your ankles, jump off a plane some 15,000 feet up in the air, ride the world's longest high-speed suspension wire ride, tackle up to grade 5 rivers on a white water rafting expedition, climb a glacier, jetboat right up to the thundering Huka Falls, surf world-class breaks, or climb in a giant rubber ball and bounce and roll your way down a hill! Whatever your thrill, New Zealand has the perfect adventure holiday for you!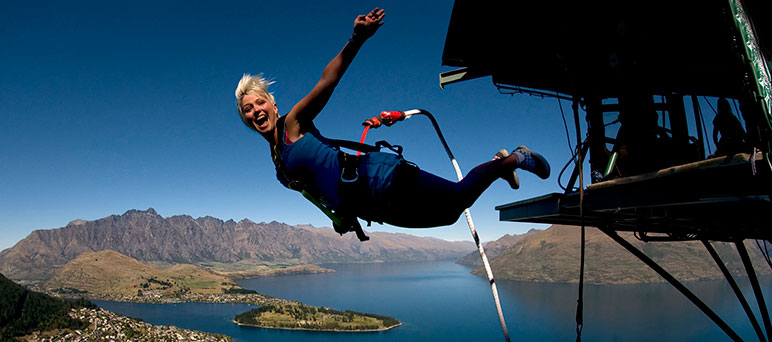 2. Nature Attractions
We're not all cut out for thrilling adrenaline pumping adventure...some of us would prefer the thrill that comes from a scenic nature cruise or some other less terrifying wildlife encounter. Well in New Zealand, you can! Swim with dolphins, take a scenic wildlife cruise and spot whales, seals, penguins or dolphins. Visit a wildlife centre or animal farm where children can pet and feed the animals, join a guided tour of penguin colonies or glowworm caves, visit New Zealand's only White Heron (Kotuku) nesting colony, or take a scenic flight over sprawling glaciers and natural forests. From llamas to kiwi, from horse trekking to animal petting farms, there's a unique and memorable wildlife experience in New Zealand for everyone!
3. Maori Culture Attractions
Unique to New Zealand, our Maori cultural attractions take you to a world of difference, history and tradition. Visit a marae (Moari meeting house), watch a Maori culture performance, get involved and enjoy a hangi (Maori meal cooked in the earth), or join a guided waka (Maori canoe) tour. However you'd enjoy your experience, there's a unique Maori cultural attraction you can include on your next New Zealand holiday.
4. Natural Thermal Hot Pools & Geothermal Attractions
Be wowed by bubbling mud pools, steaming geysers, and brightly coloured rocks with New Zealand's diverse natural geothermal attractions. Relax in naturally heated thermal hot pools and feel the therapeudic benefits as you relax and unwind surrounded by nature. Visit White Island - New Zealand's only active volcanoe and take a guided volcano tour to a lake of steaming acid, orange and yellow sulphur rocks and bubbling mud pools.
Taupo and Rotorua in the North Island of New Zealand are popular centres for geothermal attractions, with Orakei Korako, Wairakei Terraces, Craters of the Moon, Wairakei Natural Thermal Valley, Tokaanu Thermal Walk and the Volcanic Activity Centre attractions. Hot Water Beach, also in the North Island of New Zealand, is a unique destination, with hot water bubbling through the golden sand. Take a spade and dig your own spa pool and sit and watch the water break on the shore.
In the South Island of New Zealand, Hanmer Springs near to Christchurch has been a much-loved holiday destination since the 1800's with a range of natural hot pools nestled in a beautiful alpine village setting.
5. Tramping Tracks and Bush Walks
No visit to New Zealand would be complete without meandering along a beautiful bush walk, or donning your hiking boots and tackling one of New Zealand's famous tramping tracks. From accessible bush walks to multi-day tramps, New Zealand's terrain is diverse and relatively untouched. You can choose to hike through natural forestation and native bush, or you can trek across barren alpine summits to green lakes and snow-capped mountains. Join a guided walks tour and experience the amazing and spectacular with the security of being with professional guides who know the best spots and the right times of year to walk them.